CandyCane, Bell, Candy Props for 2020 John Lewis Christmas
As effected by COVID-19, DM Window Display starts the 2020 Christmas props production journey for John Lewis on Augest. For this year Christmas decroration, John Lewis's bespoke project includes spiral lolly candy, swirl lolly candy, bell, and CANDYCANE props, which are all typical Christmas decorative items for typical Christmas decor.
Originally, we suggested making all the props from fiberglass material, which can be kept for quite a long time indoor and outdoor. However, as per client's requests, they would like to make it from vac formed plastic. It is totally accepted as well.
For the Bell:
There are three sizes:
Large(750Dmmx750Hmm), Medium(597mmDx630mmH), and Small(498mmDx530mmH).
Accordingly, there fixed three different sizes lightbulbs, and clear glass with filaments. They are hanging from top with a gold cable.
The Gold cable with a 3m tail to a UK plug top.
All electrical plugs and products are ROHS approved to EU and British standards.
Bells and props need to be vac formed.
Materials are all substantable routes.
Besides, the ring bell are painted with 3 colors and finishes:
– White acrylic glossy, Light gold – RAL 1036, Standard gold – RAL 1036 with metallic interiors respectively.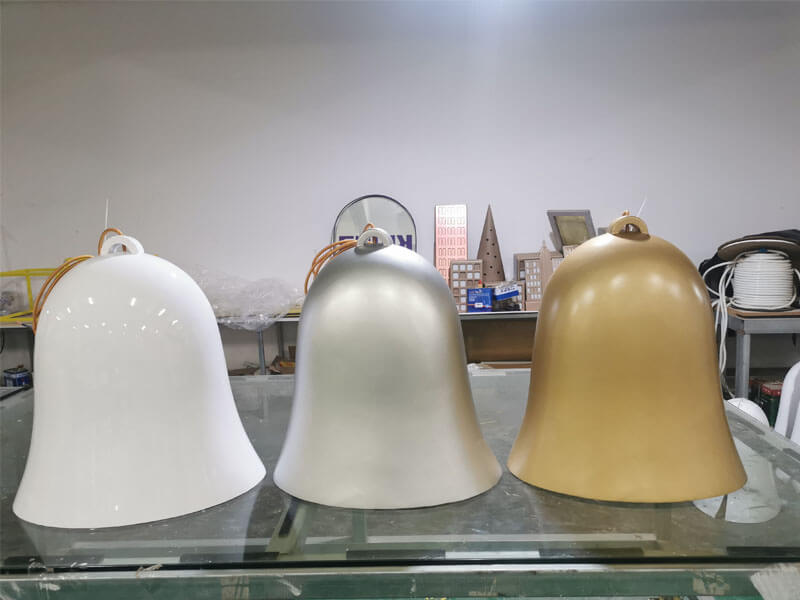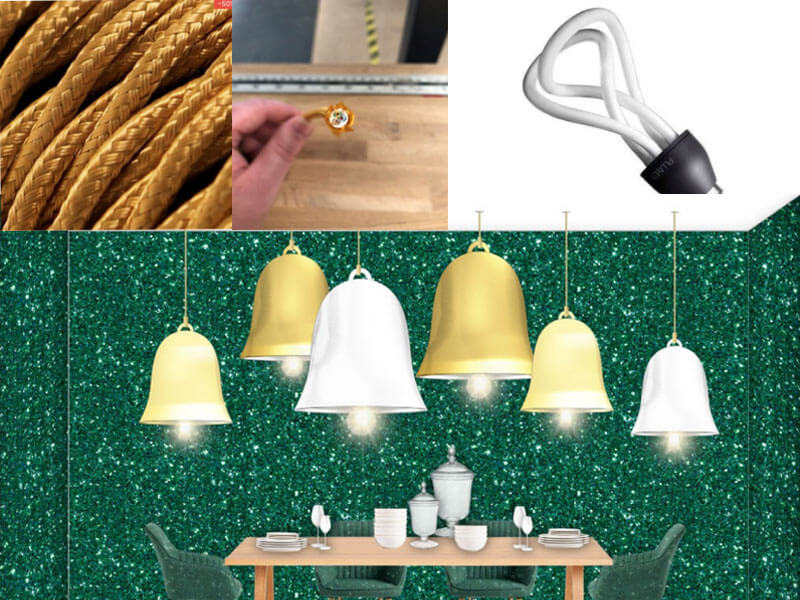 For the Candy:
– Made of vac formed thermoplastic as well.
There are two designs, one is spiral and the other is swirl candy.
With three sizes: 470mmD for SPIRAL lolly candy, 630mmD for SWIRL lolly candy, and 800mm for SPIRAL as well. And they are all folded with Cellophane, which make them look like the real ones.
Then painted with various finishes as below:
– Glossy white, Red-234C and pink glitter-200C, Red and pink satin
The candy is made with 6-15cm thickness to match different size of the lollipop in proportion. And the height of the stick is based on 100-180cm as per client request.
The pole length is around 1.2m – 1.5m.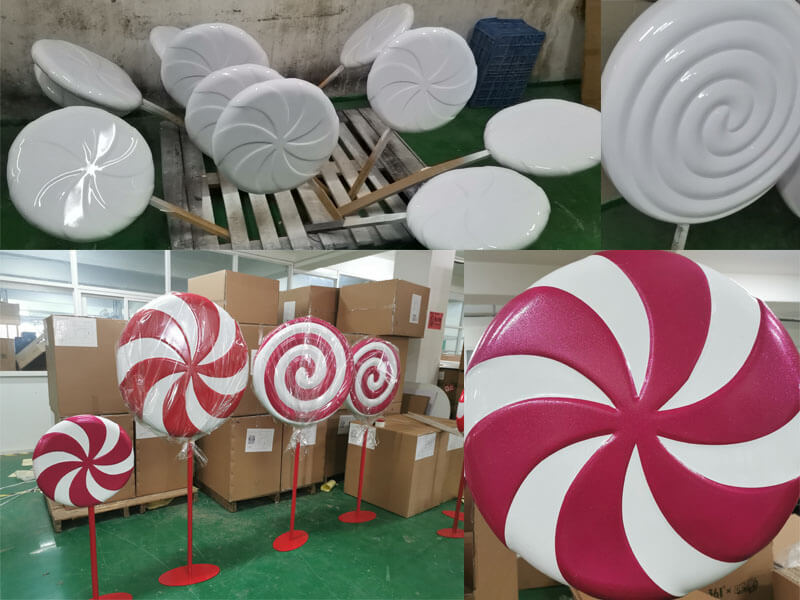 For the candycane:
Thickness is about 15-17cm, then 600mm in width and 2000mm in height.
Painted with white and 200C glitter finish effect.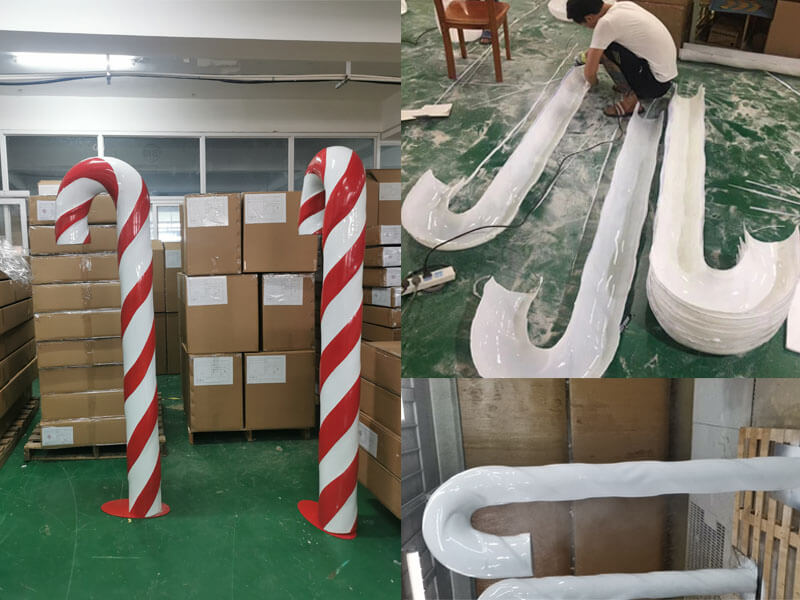 For the above three props' working processing is the same as below:
Making out a wood mould for lolly candy and bell but fiberglass mould for candycane, then bent them in a industrial oven with extreamly high temperature. Then fitting the soft piece on mould, and pressing it to shape up. Finally, painted with high quality car paintings.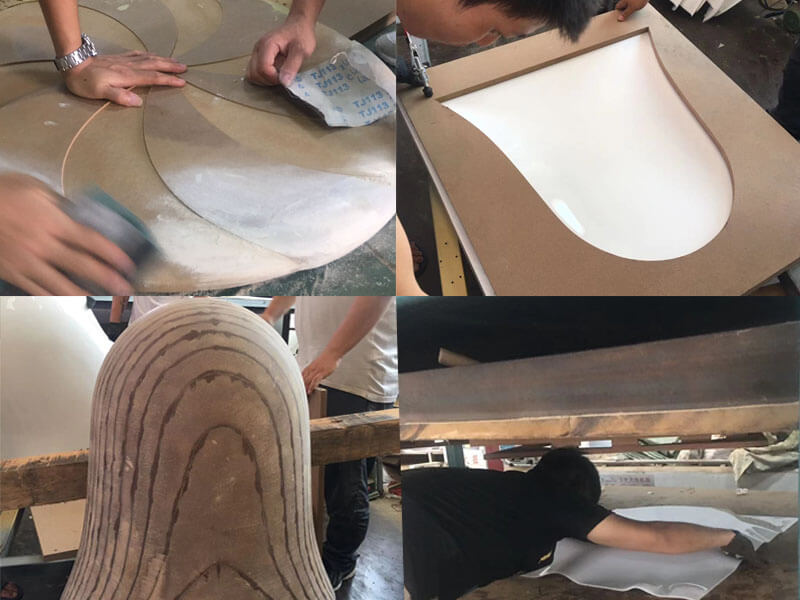 The Whole Manufacturing Plan Sheet as below:
| | |
| --- | --- |
| 10th – 18th Aug. | Opening mould |
| 10th – 18th Aug. | Candy paper, wire and wire looking for matching |
| 16th – 23rd Aug. | molding-embryoid bodies |
| 22nd – 25th Aug. | string lights test |
| 21st Aug.- 1st Sep. | Packing materials preparation |
| 21st Aug.- 3nd Sep. | painting finish |
| 4th – 5th Sep. | package and delivery |
The production time is really tight, less than 25 days. But in such a short time, DM finally makes its efforts to realize all the props with relative perfect effects and make sure its in time delievery.