Fiberglass Cartoon Sculpture for Shop Window Display
The design is for dessert shop window display. It is designed as large square head with short legs and stander with wheels for carrying easily. The fiberglass material can make out all any different shape statues. It is the best material for choosing to keep good quality of display props for a long time.
Size around 1000x1000mm with square cartoon statue for dessert shop display.
Application: coffee shop window, dessert shop window, clothing store, sporting shop, shoes store etc.
OEM lifesize, small size or customized size of any fiberglass sculptures for shop window display.
Item name
Fiberglass Cartoon Sculpture for Shop Window Display
 Brand name
DM Display
Materials
95% Fiberglass with 5% metal wheels / FRP
Size
Around 1000x1000mm cartoon sculpture or customized size
Weight
Around 18 kg
Package
PP bag with styrofoam into outer carton /

Pearl cotton

wrapped inside outer carton
Payment term
30% T/T deposit, 70% balance before delivery;

100% L/C at sight;

Western Union; Paypal

 FOB/FCR port
Xiamen / Fuzhou / Quanzhou
 MOQ
30pcs per design
 Delivery time
Around 20-25 days
 Sample time
Around 7 days
Shipping way
By sea / air / express / door to door service
Application
Fashion store/shop window display; Amusement Park decoration; commercial statue; plaza decor etc.
Main materials for making a fiberglass statue: Resin, glass fiber, fiber cloth, hardener, brush, gypsum powder etc.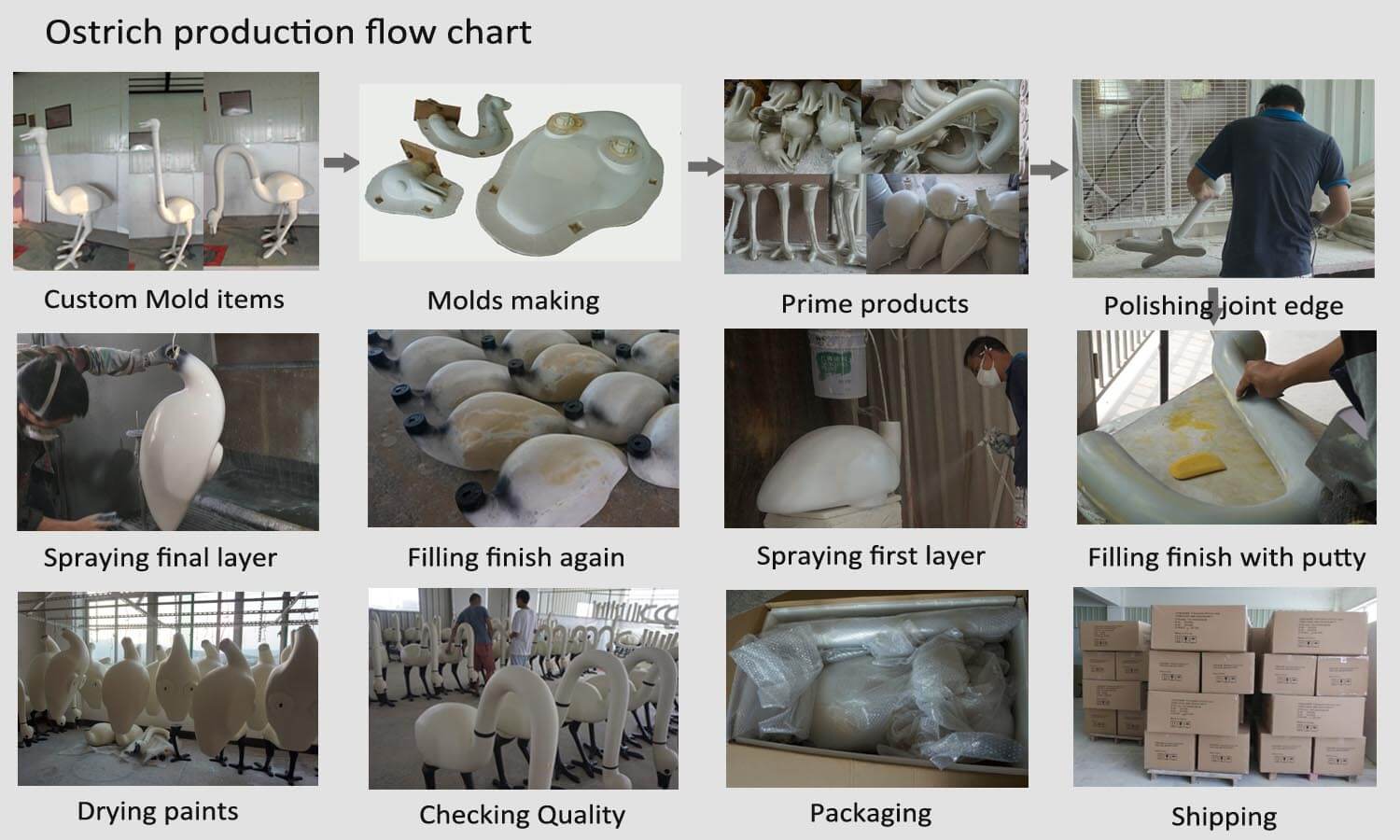 What are accessories for making a fiberglass product?
admin
2018-03-19T09:19:32+00:00
Fiberglass statue production method: More than 90% are hand-paste method in China.
FRP production tools are: plastic barrels, brushes, scissors, gloves, rasps, rollers and some small power tools.
Materials:
Talcum powder

with resin

Enhancer: Glass fiber, glass cloth, glass felt etc.

Accelerator & hardener & mold release & putty
Molds for different designs: Soft silicon mold and hard Fiberglass mold.
For fiberglass item decoration, we usually uses 2-3 layers of glass fiber or glass cloth with resin, so the thickness of edge is around 2mm.
For FRP furniture, we usually uses 6-8 layers of glass cloth with glass fiber and resin, so the thickness of furniture is around 8-10mm.
What is Fiberglass material and advantages?
admin
2017-10-27T03:28:24+00:00
Fbierglass Material:
The scientific name of fiberglass material is fiber reinforced plastic, commonly known as FRP (Fiber Reinforced Plastics), that is fiber reinforced composite plastic. It is composite material made of glass fiber and its derivative products (glass cloth, belt, felt, yarn, etc.) as reinforcing material with synthetic resin for a matrix material.
Advantage:
Lightweight but high strength

Any different design shape
Anti-corrosion
Good insulation performance

Low thermal conductivity

Good designability

Excellent craftsmanship

Wide applications