Different Materials Christmas Window Displays From DM
With the advent of Christmas shopping, the stores window display in shopping malls have also taken on a new look. At the same time, as one of the most important days in the West, major brands are also working hard to develop creative windows to attract customers. As a professional window display props supplier, DM Window Display is proud to participate in the production of multiple brand window displays. Here we'd like to share with you a few examples of the retail windows that we've provided.
Ostrich Display Props for Max Mara
We've cooperated with Max Mara for many years. And this is a bespoke project for Christmas window display in 2017. Their visual merchandising team raised a cool idea of using "Ostrich Props" as 2017 Christmas store window display props, and then sent us samples for the first discussion. After complete understanding of their display idea, we suggested them using mannequin's type metal fittings to realize the 360°rotation and match between neck and head to increase the multi-formity of Ostrich poses.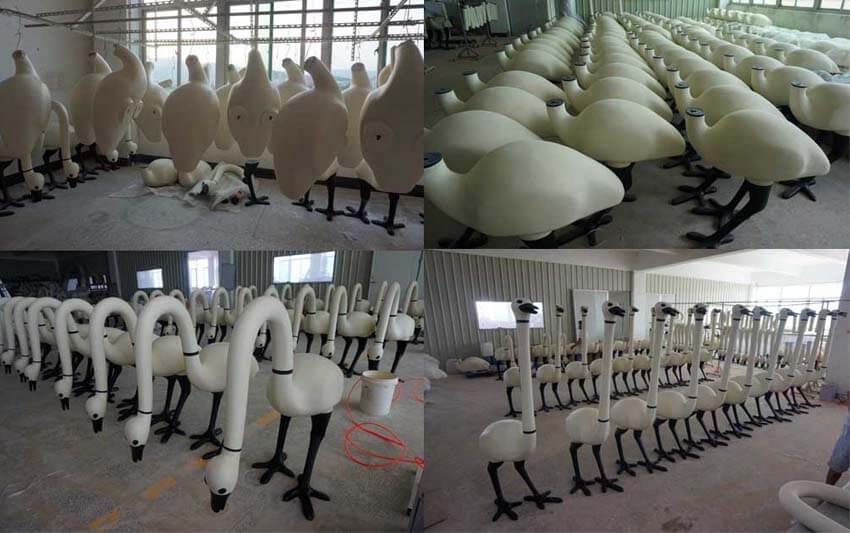 After all the issues solved, we started the sampling and production on July and finished all the delivery by the end of September.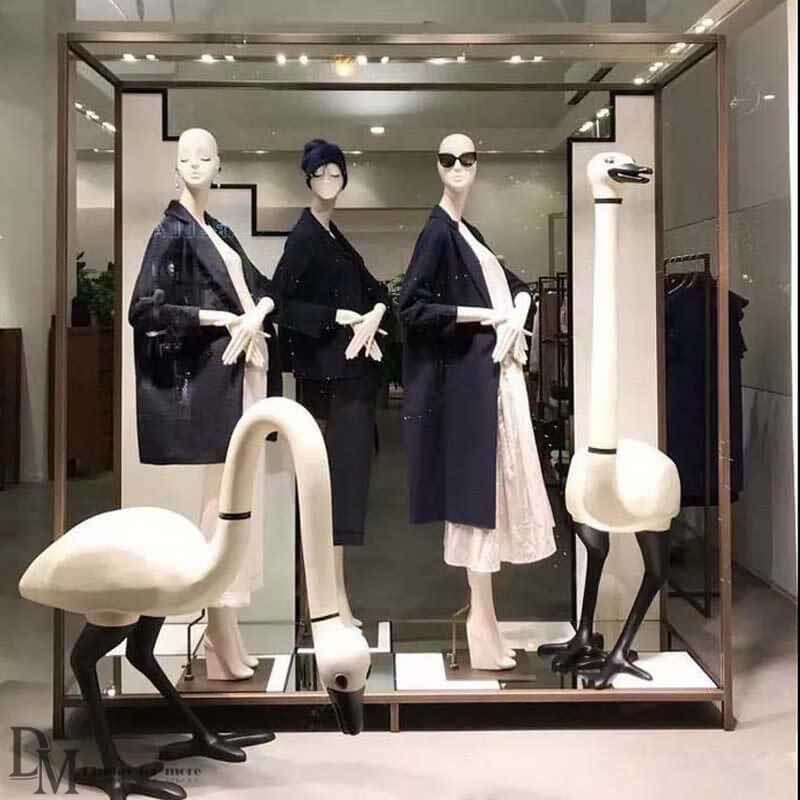 2. Cute Deer Statue BouBou for LancyFrom25
Taking 2017 Christmas window display themes of LancyFrom25 for example. Lancy team came up with the idea of using lovely BOUBOU Elf fiberglass statue and wooden house as window display props, which completely indicated their pursuit of fashion and its creation of window display.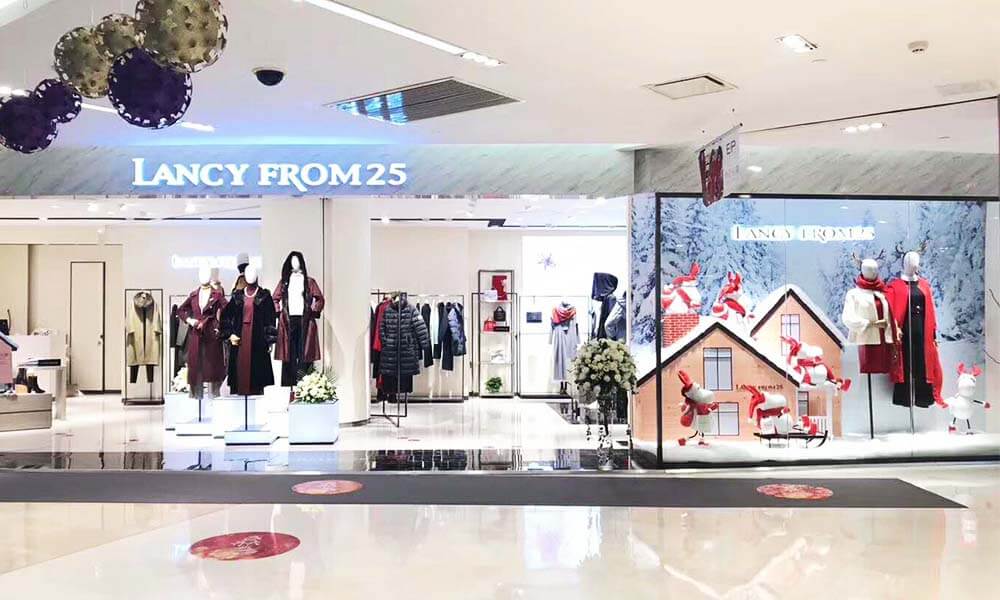 There are three posts of BOUBOU, standing, sitting and running. They all matched with classical hats and scarf to express the festive atmosphere of Christmas.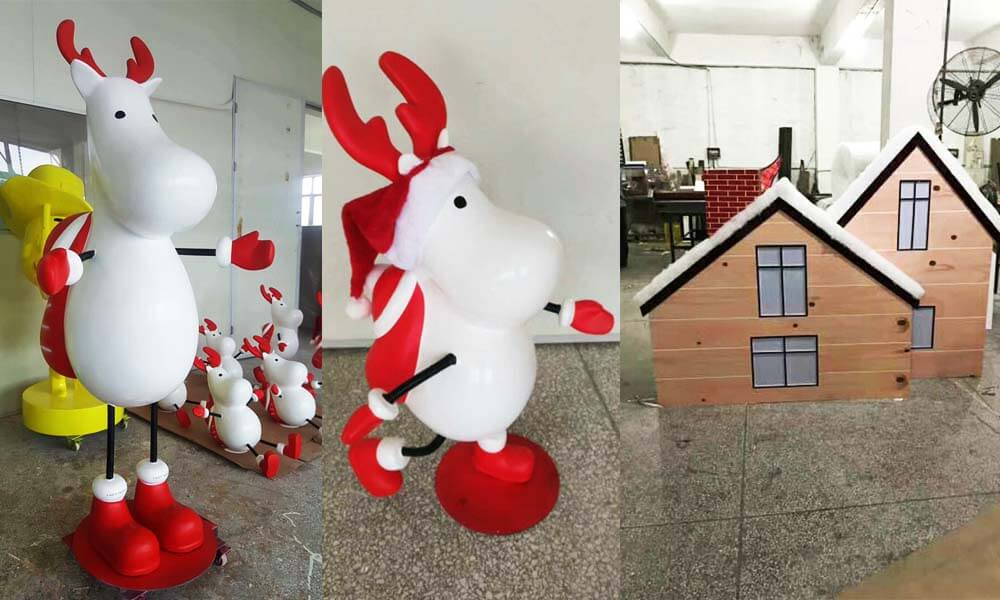 We suggested using fiberglass material for bodies and iron material for limbs, and we also made a 3D scenes wooden house to build a window setting, which could not only help the statue stand more stably, but also reserve enough spaces to put them in the chimney and on the roof. As to those snowflakes on the ground and on the roof, we used soft cotton to help cover the base support of the statues.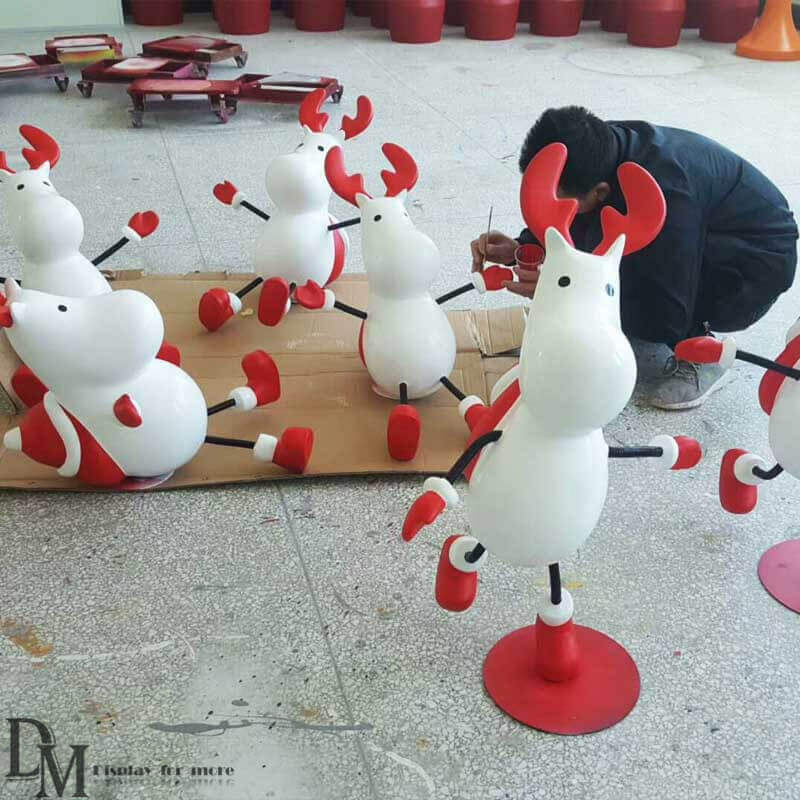 3.Cutting Chevron Board Display
This is a series of representative Xmas window display figurines, including snowman, snowflakes, and Christmas tree designs.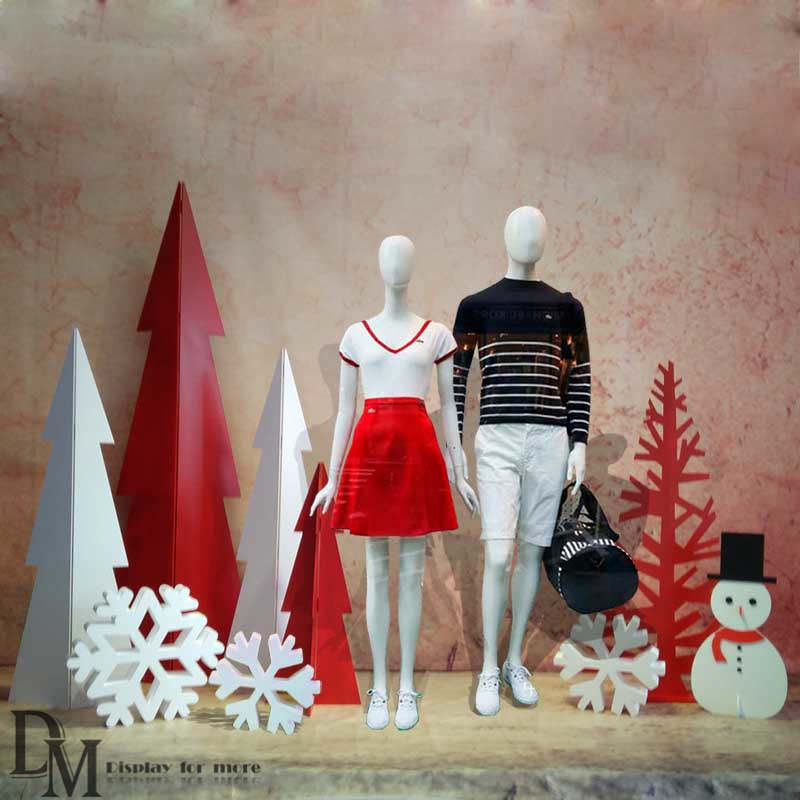 They are made from cutting chevron board, which are shaped and painted in different colors. As VM display props, they are always used for fashion store window, commercial mall center decor and fixed on wall of aisle, then you could feeling Christmas everywhere.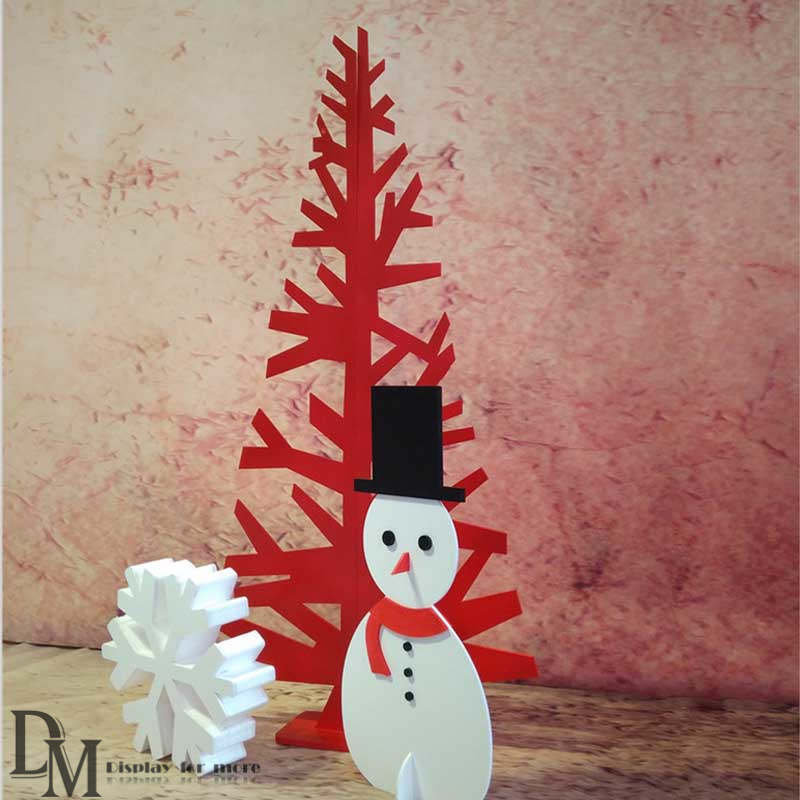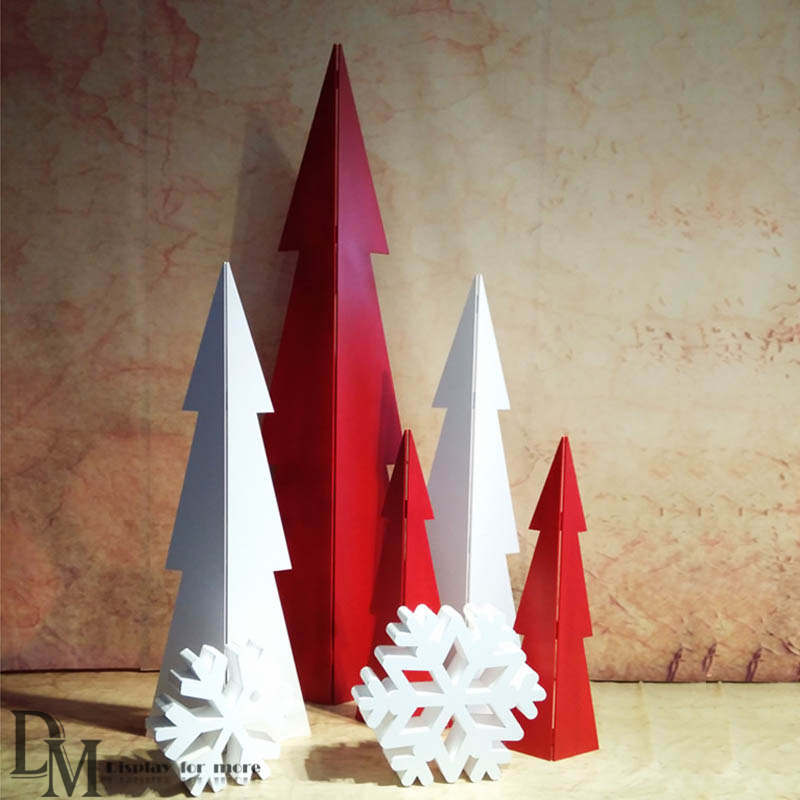 In Christmas Day, Christmas tree is so common that you can almost see it everywhere. Then how to create a representative Christmas tree but still with some innovative and attractive ideas? We put forward such suggestion as below.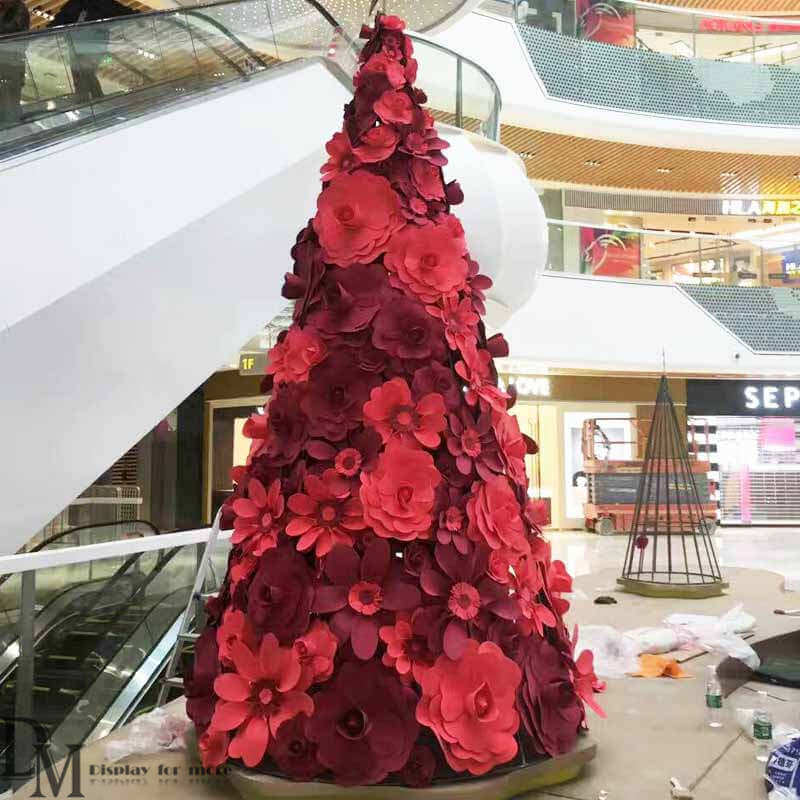 We created a large hemispherical metal frame as Christmas tree shape, then covered the frame with full of paper red flowers. On the tree, they were falling acrylic flower plants. The whole props were half hand and machinery made, and the tree and flowers can be made with different sized and colors.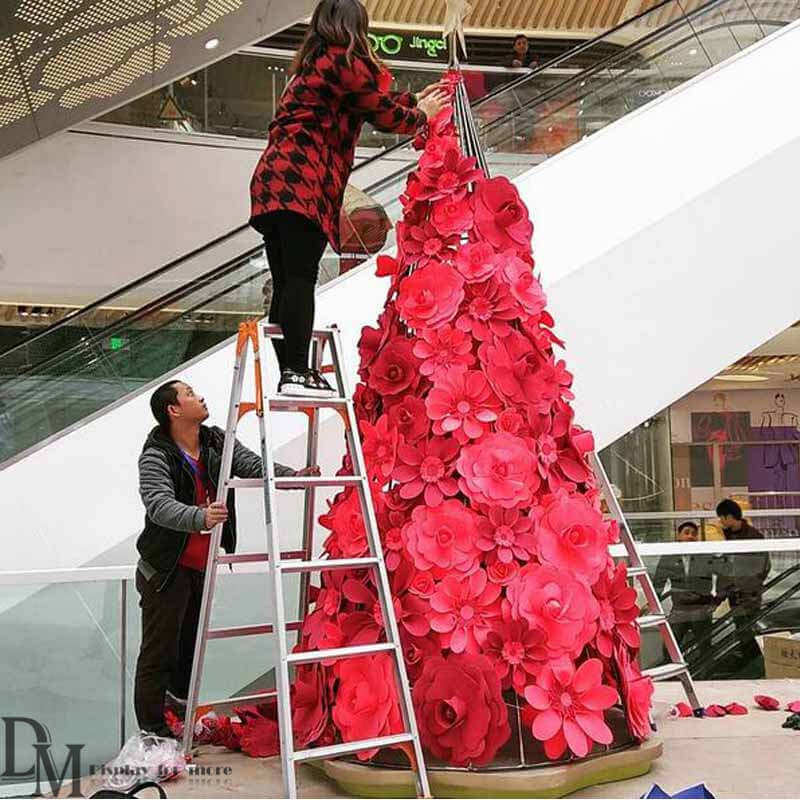 Without any doubt, it can be said that the fiberglass balloon is simply the standard display of the retail visual merchandising, and any brand and store must have adopted fiberglass material balloons as window display props.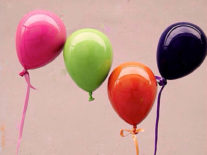 As promotion event props and advertising display items, fiberglass balloons can be added own logos and sprayed with beautiful glossy finish and two separation colors on every each them. They are all fashion and trendy colors, saying mint blue, mint pink, red and warm gray colors. It is used for hanging on top of store window for display, and also can be promotion gifts to customers.